Das Gale-Shapley Verfahren
Das Gale-Shapley Verfahren ermöglicht eine Vergabe von Kitaplätzen, die den Familien und Betreuungseinrichtungen eine bestmögliche Zuordnung ermöglicht und frühzeitige Planungssicherheit gibt. Wir begleiten Kommunen wissenschaftlich bei der Umstellung auf ein solches Verfahren. Auf dieser Seite wollen wir die Gelegenheit nutzen und das Gale-Shapley Verfahren mit Hilfe eines Videos etwas besser vorstellen.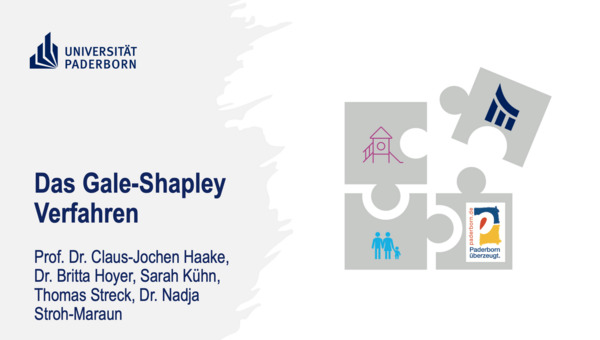 Privacy Notice: This is a YouTube video. With the click on the play button your IP address, the url of the video and other informations are transmitted to YouTube.
Am Projekt beteiligte Personen